This month marks the release of the third and final installment in The Fortunate Buddha trilogy, a romantic suspense with action, sizzle and of course, romance. We first joined the quest for The Fortunate Buddha in The Love Thieves. .I'll be here all day with posts and discussing each of the books in the series, be sure to check back! The Fortunate Buddha is a labor of love and written in the same vein as some of my favorite series including those by Kay Hooper, Iris Johansen, J.D. Robb and so many others that I've read over the years.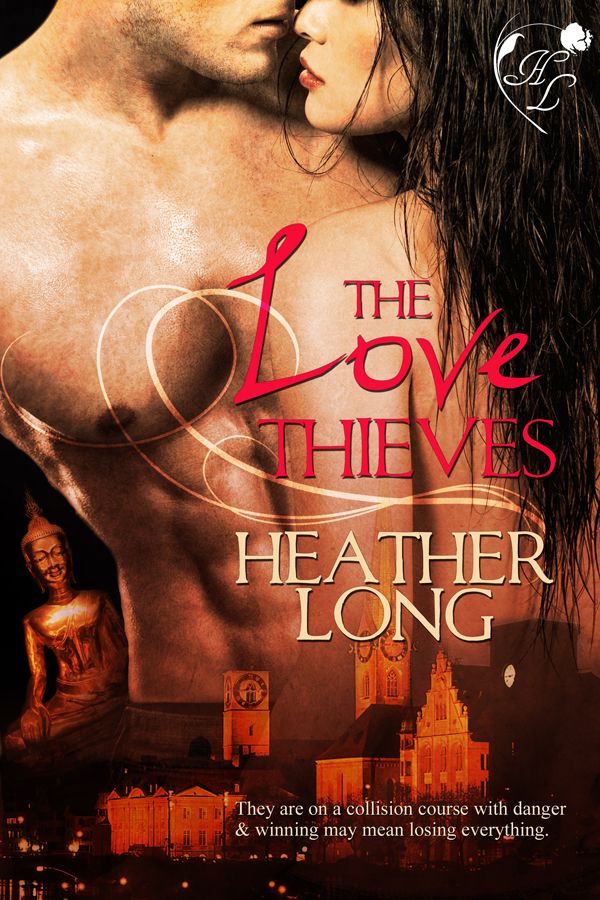 The Hunt is On
Set in Morocco, London and Switzerland, The Love Thieves takes Anya and Max on a powerful journey full of passion and chemistry that sparks on the page from their first dance to their last.
Maxwell Sauvage was born into a life of privilege…and boredom. As a "security consultant" to the powerful, he enjoys pitting his wits against the most intricate of security systems for business and pleasure.
Anya Swift is a woman with high-class tastes and a high-octane need for adventure. As an operative for International Art and Antiquities Recovery she stays just on the 'right' side of the law, while satisfying her desire for the finer things and her thirst for adventure.
When a high tech camera catches Anya taking The Fortunate Buddha from the French Ambassador's vault, Max is eager to help the provocative thief for his own reasons, not the least of which being that he set the camera. But after one stunning night of passion, Anya disappears. Now Max must find Anya before the Ambassador's men and claim the thief for his own, but they are running against a clock, danger and deception.
Read and Win
After you check out the first chapter, tell me one thing that happens in it in a comment and be entered to win a PDF copy of The Love Thieves. Winners will be drawn Monday.

About Heather

Heather Long lives in Texas with her family and their menagerie of animals. As a child, Heather skipped picture books and enjoyed the Harlequin romance novels by Penny Jordan and Nora Roberts that her grandmother read to her. Heather believes that laughter is as important to life as breathing and that the Easter Bunny, the Tooth Fairy and Santa Claus are very real. In the meanwhile, she is hard at work on her next novel.