Well... you didn't see *that* coming.... darn it!
What happens when you find yourself in a situation where you see no way out?
Do you freak out?
Pray about it?
Stay calm and focused?
Sit down and rock back and forth like a baby with your eyes closed... (Okay, I'd like to say I'd pray, but I'd probably rock back and forth... hopefully, I'd be praying while I rocked.)
When you are stuck in a situation you don't know how to get out of, your real character tends to come through. That's what happens to Rachel Harker and Asher Jenkins during a "one day" hiking trip in the Smoky Mountains-- which lasts more than five.
Lost and alone, they have to decide what in the world they are going to do, who they are going to trust, and how they are going to get down once they find Deep Creek flooded, cutting off their only way home.
As the days stretch on and their conditions go from bad to worse, Asher and Rachel are forced to do whatever it takes to find a way home.
What would you do?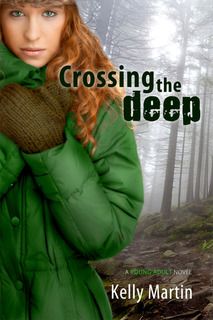 CROSSING THE DEEP is a Young Adult novel. It will be released Tuesday, Oct. 9th by Astraea Press. You can find it at Amazon.com, Barnesandnoble.com, and astraeapress.com.
Author Bio:
Kelly Martin is a writer, teacher, blogger, mommy, wife, Christian, sleep-deprived, gray-headed-way-beyond-her-years lady who loves to read and write Young Adult novels. Her first book, CROSSING THE DEEP, will be available Oct. 9th. Her second book, SAINT SLOAN (Astraea Press) will be released in late winter 2013. When Kelly isn't writing, she's thinking about writing-- or watching youtube.
She can be bribed with chocolate and free ink pens.
Follow me on twitter: @martieKay
or on facebook: Kelly Martin, Author
OR on my blog: www.kellymartinstories.com