To celebrate the release of my debut novel, CROSSING THE DEEP (Astraea Press), I'm giving away a $10 Amazon Gift Card and a $10 Barnes and Noble gift card on my blog, Kelly's Stories. The book will be released October 9th, but today is the beginning of a two week book blog tour, release party :)
One of the options is the 'follow' the blog. You can do that already and already be ahead of the game.
Head on over HERE and enter to win :)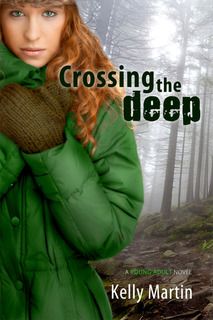 CROSSING THE DEEP is a Young Adult/Christian novel. It will be released Tuesday, Oct. 9th by Astraea Press. You can find it at Amazon.com, Barnesandnoble.com, and astraeapress.com.
Author Bio:
Kelly Martin is a writer, teacher, blogger, mommy, wife, Christian, sleep-deprived, gray-headed-way-beyond-her-years lady who loves to read and write Young Adult novels. Her first book, CROSSING THE DEEP, will be available Oct. 9th. Her second book, SAINT SLOAN (Astraea Press) will be released in late winter 2013. When Kelly isn't writing, she's thinking about writing-- or watching youtube.
She can be bribed with chocolate and free ink pens.
Follow me on twitter: @martieKay
OR on my blog: www.kellymartinstories.com