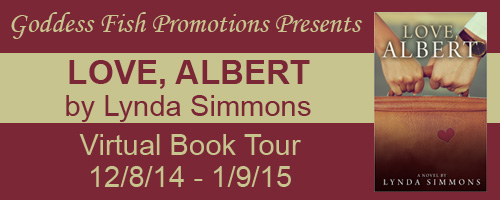 This post is part of a virtual book tour organized by
Goddess Fish Promotions
. Enter the Rafflecopter below for a chance at winning a $50 Amazon/BN gift card. Click on the tour banner above to see the rest of the stops.
Lynda Simmons' flash fiction episode five is now available. Watch out for episode six on Monday at
Marlow Kelly
Flash Fiction # 5
Happy Trails
(With Nurse Dylan Feeney)
"What time is it?" Grace asks. "Four o'clock," she continues, answering her own question on her way into Mr. Bailey's room for the third time this morning.
"Dylan," the doctor says.
"On it," I say, happy to escape both files and the front desk for even a moment.
On any other day, he wouldn't have sent anyone after her. Willow Tree Long Term Care is small and expensive with a carefully cultivated relaxed atmosphere. Lavender scents the air, music plays constantly and residents wander through each others' rooms at will. Opening closets, fishing through drawers, even carting stuff away. That's why important items are stored on upper shelves and everything else is labeled. Eventually, stuff finds its way back to where it belongs. No harm, no foul – as good a philosophy as any in a place where no one gets better and the days all blend together.
This isn't where I saw myself after graduation. Dylan Feeney, Male Nurse, was heading to Africa or Micronesia, someplace where happy endings are only a vaccination away. But then I met the doctor. He's older, sure, but we hit it off, had more than drinks. When I talked about booking a ticket to Nairobi, he offered me a job, full time with a good salary. He talks a good line and before long, the booming voice of my student debt drowned out the whispers of my heart. So here I am, chasing Grace instead of malaria and fraternizing with a staff member in secret. Not quite the life I imagined, but his place is nice and there's nobility in caring for those who can't care for themselves. And I don't tell anyone that I still think about those happy endings now and then.
"What time is it?" Grace asks when I step into the room. "Four o'clock," she says, to no one in particular.
She hasn't rifled the dresser or even peeked in the closet. She's intent on only thing – touching the windows, ensuring they're closed. Or perhaps searching for one that's open, I can't tell, but she's been at it for days. Inspecting every window and door in the place, a woman on a mission and normally left alone to amuse herself. But this morning, Rick Bailey's room is out of bounds.
He was on death's door again last night and his wife, Anna has been here since midnight. She could have gone home when he rallied around five a.m. Or when he had oatmeal at seven. Definitely when he was taken for his bath at nine. But she's still in there, slumped in a chair, staring at the phone in her hand. And the last thing she needs is Grace coming and going.
"I'm sorry, Mrs. Bailey." I head toward Grace. "I'll try to keep her occupied."
"Don't bother." Anna looks over at me. "She's not hurting anything."
Grace ignores me and Mrs. Bailey seems sincere. It's back to the files for me. "Can I get you anything before I go, then?"
"A handful of sleeping pills? Perhaps two?"
I open my mouth and she holds up a hand. "Dylan, I'm kidding." She sighs and sets the phone on the table beside her. "I doubt Rick could swallow them anyway."
I step closer. "Mrs. Bailey, I know last night was difficult –"
"Trust me, Son, we left Difficult a while back and have been firmly mired in Impossible for some time now." She gets to her feet, crosses to the bed. "But the good news is that he's having fewer lucid moments. Fewer times when he looks me straight in the eye and says something that tells me he's there and he's listening." She plumps the pillow. "And that's a blessing because those damn moments keep you hoping and bringing in pictures and telling stories. Believing that if you just try a little harder, somehow things will work out."
She glances back at the phone and I know I should leave it alone, get back to the desk, tell a counsellor to come on down. But her face is pale and her hands are shaking and if the Director wants to add this to my growing list of infractions, so be it.
"Tell me about the last time he had one of those moments," I say and smile when she looks over. "Was it like in that movie?"
She laughs. "God no," she says and is about to elaborate when Joyce, the Bingo Lady bustles in with her cards and dabbers. "How is everyone this frosty Friday?"
Anna glances over. Smiles. "About the same. You?"
Older than most of the residents, Bingo Lady still runs, practices yoga and volunteers here every day. A poster for the perfect retirement and a favourite with the families. "If you're here for Grace," she says to me, "don't worry. I'm taking her to bingo."
"What time is it?" Grace asks.
"Time to go," Joyce says, and turns to Anna. "I'm picking up Bernice along the way, just so you know."
It's no secret that Anna and Bernice's husband, Jeff, have been seeing each other. And I wonder now if Bingo Lady played Cupid.
"See you later," Joyce says and takes Grace's arm, motions me to follow her out the door. Once in the hall, she lowers her voice. "I know you mean well," she says. "But getting her to talk about Rick won't help her. Anna's finally moving on, coming back to the land of the living again."
"But he's still her husband."
Joyce leans closer, whispers in my ear. "He's a potted plant Dear, just like the rest of them. If you want to help, be happy that he'll be dead soon, before she starts to hate him." She straightens and draws Grace closer. Gives her a bright smile. "Bingo awaits."
"What time is it?" Grace asks then turns suddenly. Grabs my arm and looks straight into my eyes. "It's time to go," she says and every hair on my body stands straight up.
Sometimes all love needs is a road trip, a rubber chicken and a touch of magic

Vicky Ferguson loves her husband Reid, always has, always will. But with two kids to think about, it's time for the free-wheeling, sports car loving pilot to put his feet on the ground and lay down some roots. Reid can't imagine life without Vicky but neither can he see himself pushing a lawn mower or driving a mini-van. They're on track to a divorce neither one wants until a last request from beloved Uncle Albert puts them on the road together one last time.
Enjoy an excerpt:
"Which brings us to the issue at hand," the lawyer said and opened a file. "I have here the last will and testament of Albert Ferguson. Handwritten but perfectly legal." He leaned down and picked up Albert's old leather suitcase. It was the only thing the old man ever carried – the true master of travelling light. Lyle set the case on the desk, undid the straps and slid back the zipper. Reached inside and came up with a pair of Groucho Marx glasses, complete with bulbous pink nose, bushy eyebrows, and a formidable mustache.
Reid sat forward. "Not the glasses," he said, a smile already tugging at his lips.
Lyle nodded solemnly and put them on, carefully adjusting the nose over his own before picking up the paper again. The lawyer's delivery was perfectly straight, if a bit nasal. "I, Albert John Ferguson, being of sound mind and body— "
Reid glanced over at Vicky. She was staring at the lawyer, eyes wide, lips pinched tightly together, holding back her laughter.
"Do hereby bequeath all my worldly goods to my favorite nephew and niece, Reid Allan Ferguson and Victoria Ann Ferguson, to be used as they see fit. This includes one hand buzzer, one whoopee cushion, one pair of Groucho glasses." He reached into the suitcase again. "One rubber chicken –"
"I'll take that." Vicky's face turned pink when the lawyer paused and looked at her over the nose of the glasses. "For the kids," she added, and turned to Reid. "Unless you want it."
"Not at all." He pointed to the suitcase. "But I've got dibs on the fl y-in-the-ice-cube."
"One fly-in-the-ice-cube," Lyle continued, and set it in front of Reid. "One can of worms—"
"Snakes," Reid cut in. "They're snakes."
The lawyer slid the can toward him and Reid popped the lid. Three long colorful snakes sprang from the tin and flew over the desk, squeaking as they bounced against the walls. "They were always his favorite." Reid smiled at Vicky. "Do you mind if I take them?"
She held up the whoopee cushion. "Not as long as I can have this," she said, and Reid understood why Albert had loved her, too.
"You can go through the rest on your own later," Lyle said, taking off the glasses and setting them aside. "But in return for his worldly goods, Albert has a favor to ask."
Reid raised his head. "A favor?"
"More of a decree really." Lyle cleared his throat and resumed reading from the will. "In return for my worldly goods, Reid and Vicky must promise to take my remains to Seaport, Oregon. "
The chicken's head bobbed as she sat up straighter. "But I thought he'd already been buried."
"Not quite." Lyle lifted a plain white shoebox out of the suitcase and set it on the desk in front of them. "He's been waiting for you."
Reid stared at the box. "That's Albert?"
"Ashes to ashes." The lawyer picked up the box. "I know it's not much to look at, but it's practical, sturdy, and holds up to five pounds of loved one, no problem." He looked from Reid to Vicky. "The point is Albert didn't want a fancy urn because he wasn't planning to spend much time in it anyway."
Reid shook his head. "I don't understand."
Lyle smiled. "Your Uncle Albert wants to fly one last time."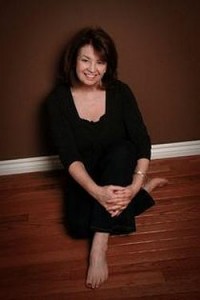 About the Author:
Lynda Simmons is a writer by day, college instructor by night and a late sleeper on weekends. She grew up in Toronto reading Greek mythology, bringing home stray cats and making up stories about bodies in the basement. From an early age, her family knew she would either end up as a writer or the old lady with a hundred cats. As luck would have it, she married a man with allergies so writing it was.
With two daughters to raise, Lynda and her husband moved into a lovely two storey mortgage in Burlington, a small city on the water just outside Toronto. While the girls are grown and gone, Lynda and her husband are still there. And yes, there is a cat - a beautiful, if spoiled, Birman.
When she's not writing or teaching, Lynda gives serious thought to using the treadmill in her basement. Fortunately, she's found that if she waits long enough, something urgent will pop up and save her - like a phone call or an e-mail or a whistling kettle. Or even that cat just looking for a little more attention!
Amazon Author Page:
http://www.amazon.com/Lynda-Simmons/e/B001KI3Z4O
http://www.lyndasimmons.com/
http://www.goodreads.com/author/show/958842.Lynda_Simmons
https://www.facebook.com/pages/Lynda-Simmons-Author/149740745067442
https://twitter.com/LyndaMSimmons
a Rafflecopter giveaway